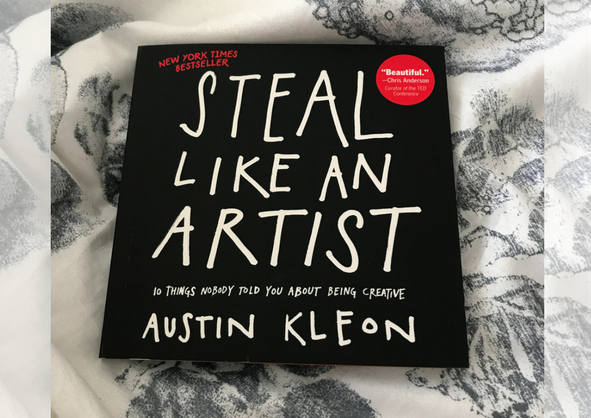 When my artist niece told me a while ago that it's okay to steal from other artists I was a little bit horrified to be honest. But she promised that in art school they were taught 'art appropriation' is all above board…really it is!!
Because here's how it works – you take a well known image or a pre-existing object someone else has painstakingly created, then whizz it around, mash it up, reverse and rotate it and voilà! You've created new meaning, made it your own, created a brand new piece of art…simple as that.
I still struggle with this concept a bit, but Austin Kleon in his book 'Steal Like an Artist' sums it up perfectly when he quotes one of my favourite Bible verses:
"There is nothing new under the sun" Ecclesiastes 1:9.
Then I realised, it really is true. All new ideas are just a remix of all the other ideas and influences that have come before it. As Austin says, nothing on this earth is completely original.
This book basically blew my mind and has managed to somehow free me up. It has finally given me permission to be inspired by artists I love and images I'm constantly bombarded with all over the place, particularly the internet. You can probably tell from the image from my journal below, that I learnt a huge amount from this tiny little book.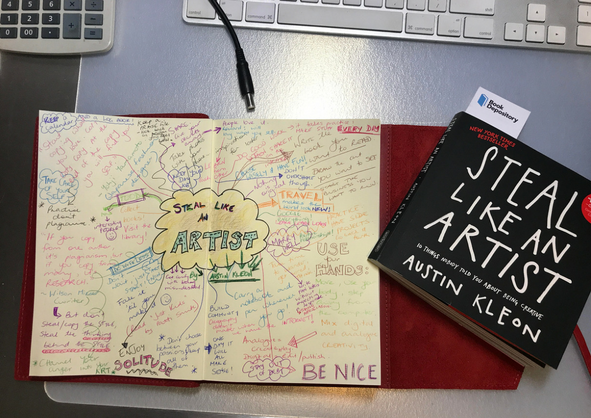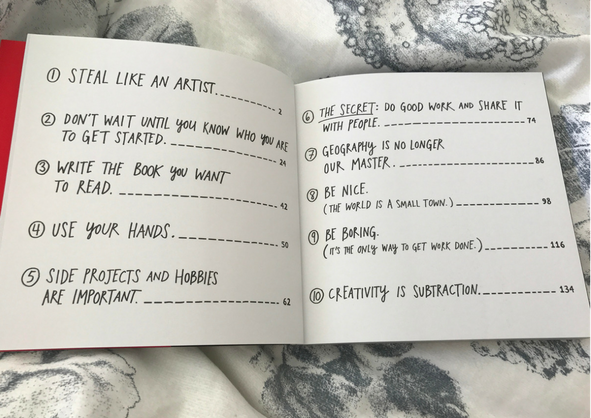 Austin's chapter titles shown in the image above makes the contents of his book quite self explanatory, but I'd like to share some of the snippets that sparkled for me. I think they're bits of advice that are not only great for people wanting to create good art, but wanting to live a good life…
Don't wait to create, just START NOW!
Fake it 'til you make it …or as another saying goes, practise don't plagiarise. So don't steal or copy the STYLE, steal the THINKING behind the style. Austin quotes writer Wilson Mizner, which explains this a little further…
"If you copy from one author, it's plagiarism, but if you copy from many, it's research."
Channel your anger into your art. I love this one…I'm a big advocate of using art as therapy to get through any challenges life might throw your way.
Eat good food, hang out with awesome people, take care of yourself.
Keep a calendar, get organised.
Take time to wander, get bored, THINK. I think this is another way of encouraging us to stop, breathe, relax. I love yoga and meditation for this or just going for a nice, long walk.
Google everything! LEARN LEARN LEARN!
TRAVEL – it makes the world look new.
SHARE. Give your secrets away. People love it and this is how you build community, by learning from each other.
Do good work by practising every day, then share it on the internet. Don't overshare though – choose wisely.
Use your hands: move, use your body, step away from the computer, mix digital and analogue creativity.
Stay out of debt.
Have fun.
Be nice.
These last 3 tips are simple and self-explanatory but are truly awesome for living a good life.
And last but not least…
KEEP YOUR DAY JOB! Now this one completely blew me away so I'm going to quote Austin word for freakin' word…
"The truth is that even if you're lucky enough to make a living off doing what you truly love, it will probably take you a while to get to that point. Until then, you'll need a day job.

A day job gives you money, a connection to the world, and a routine. Freedom from financial stress also means freedom in your art.

A day job puts you in the path of other human beings. Learn from them, steal from them.

The worst thing a day job does is take time away from you, but it makes up for that by giving you a daily routine in which you can schedule a regular time for your creative pursuits."
All I want to end with here is…
AMEN, BROTHER!
Never stop dreaming,
http://jenniferreid.com.au/wp-content/uploads/2017/07/steal-like-an-artist.png
418
591
Jennifer Reid
http://jenniferreid.com.au/wp-content/uploads/2018/02/jrcc-logo-header.png
Jennifer Reid
2017-07-27 09:42:38
2018-01-09 17:19:33
15 REASONS WHY IT'S OKAY TO STEAL!