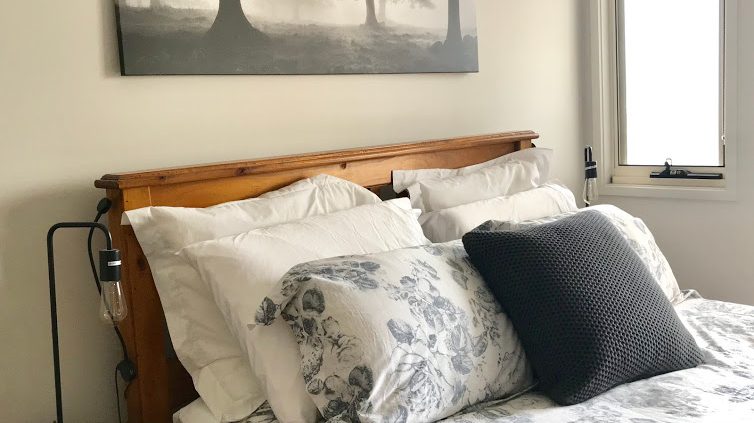 As a self-taught artist, I have always loved 'creating' beauty in my surroundings. Although I have a diverse range of skills and experience (having worked in teaching, finance, beauty therapy, fashion retail and radio), 'creating' every day truly makes my heart sing. Freedom of expression and creativity not only improves my own wellbeing, but my intention is to make a difference in the world around me too.
Through a recent personal experience of gradually re-styling my new home, I have come to realise just how important creativity and design can be in changing a physical space, but also in potentially impacting one's emotional space.
Prior to living in our current home of 2 years, my family and I lived in what I would consider closer to the home of our dreams, complete with spacious, open plan living, lovely light-filled spaces and an outdoor oasis with a sparkling concrete pool as the centrepiece.
Unfortunately, after I was diagnosed with cancer in 2009 and again in 2016, the family finances became so strained that we decided to relieve the pressure by selling this beloved family home. We managed to greatly reduce our debt, but in so doing moved to a suburb much further away from the city, into a house that we don't wish to live in forever.
My attitude towards this property was not a positive one and this in turn affected the way my husband and children viewed the house. For a long time we lived with blank white walls, cold rug-less tiled floors and not much in the way of soft furnishings or treasured ornaments to breathe life into our new surroundings. I didn't want to be there, so I wasn't wasting any time or money on decorating.
Until one day I realised I couldn't waste another moment of my life wishing I were somewhere else, for my own sake as well as that of my family. We deserved to be happy. Suddenly grateful for what I already have RIGHT NOW, I promptly got to work creating the space of my dreams.
Research reminded me of the magic of interior design… I binge-watched renovation shows, read a multitude of home interiors magazines and trawled through Pinterest for hours on end …and soon had the perfect plan to bring the sparkle and joy back into my family home.
A vibrant wall hanging here, a plush rug there, a brave lick of paint, some bargain furniture discoveries and voilà – it was as though we were living in our dream home again.
It is now our comfy haven, both attractive and functional, with beautiful walls at every glance, soft rugs comforting our footsteps, relaxing outdoor areas, a unique mix of bold colours and eye catching textures everywhere.
This personal passion project has not only resulted in a positive change to our physical space, but it has also had a positive emotional impact on my whole family. We love our house now and are grateful to call it 'home' for as long as we need to.
My hope is that I will be able to share this experience with others, by using my creative passion with the inspirational delights I discover, to bring joy into physical and emotional spaces everywhere!
If you'd like to go for a wander, I've been sharing my 're-styling' journey over on Instagram. And if you're feeling inspired, please share an inspired space from your beautiful life using hashtag #lovethespaceyoulivein, or post a pic of any creative project you're currently working on with hashtag #neverstopdreaming.
Never stop dreaming!
http://jenniferreid.com.au/wp-content/uploads/2018/01/IMG_8706.jpg
682
754
Jennifer Reid
http://jenniferreid.com.au/wp-content/uploads/2018/01/header.png
Jennifer Reid
2018-01-09 17:07:55
2018-01-09 21:50:54
Love The Space You Live In